Testimonials
Highlands Breeder Reviews and Family Testimonials
This page is dedicated to our wonderful puppy families and the love they have for their adopted family members:
I thought you would enjoy seeing a picture of Bailey who will be 9 months old this week and weighs about 33lbs he is lovable, smart, funny and full of character!    He was extremely easy to train being a very food motivated dog and while he is currently testing the limits of adolescence it is more about the sport of what he can do and less about not knowing what he should do.   He does love to grab a shoe (very partial to my UGGS!) but gives it back quickly and now that he is bigger he checks out the counters for any food items we may have left for the taking – which is the current focus for our training!   He is one of four 'doodles' in our extended family, he has a wonderful doggie day care situation and many neighborhood dogs to romp with in the field behind our house – he is one fast pooch.   He loves to chew and goes through many bully sticks (and other types of animal part chews ) as well as toys faster than I can keep up with, although he is beginning to slow down a little from when he was teething.  Thankfully he has never chewed furniture or rugs.   We continue to crate him at bed time and if we are out of the house although we are relaxing that a little as he has proven himself to be more 'trustworthy'.    He loves people and is known as the best and cutest dog in the neighborhood.   He doesn't shed nor does he aggravate my allergies, I think his parents are Kate and Star so if all the other pups do as well as Bailey you have a winning linage.
He is wonderful addition to our family and we are enjoying him so much – even walking him in the cold, rain and snow and … yes, he is smart enough to do his business quickly!     I hope you are well and raising lots of Australian labradoodles as they are extremely popular in the Boston area and I have given your name to several people.
Wishing you and your family all the best.
Judi and Jim Bieber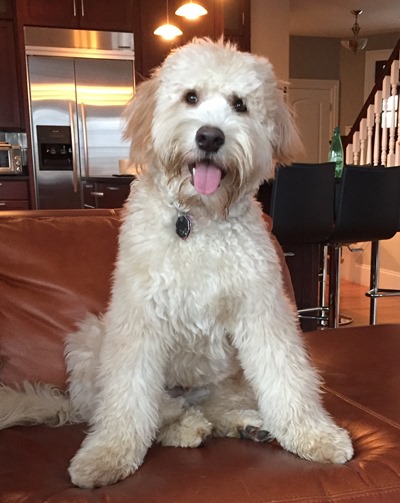 Riley is 7 now. Still doing dog therapy a few hours each week. He works in 2 schools. One with a class of 8 boys eith Autism & a preK class with 18 kiddos. He love it! Shiloh will be 5 in March. She is a sweetie too.
Hope all is good with you & your family.
Sue, Joe, Riley & Shiloh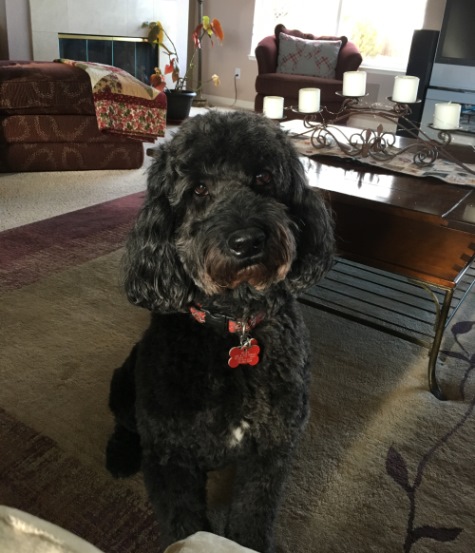 Nick,
Happy New Year!
I thought you might be interested in seeing photos of Luna (~18 mos.) and Pluto (~10 mos.), please see attached photos.
We love both dogs, they are warm affectionate dogs, grand playmates and friends.  Luna and Pluto are inseparable, happier together than apart.
I receive comments frequently about how beautiful they are.
Satisfied Cobberdog customers!
Patty and Marc Tanenbaum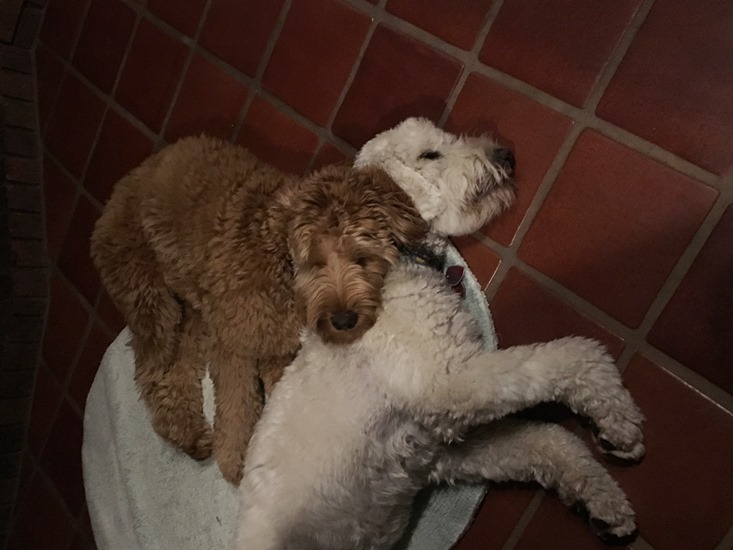 Hi Nick,
Luna is now 10 months old and close to full grown.  She is a beautiful girl, long bodied and lean, at about 35 pounds.  She is very social with Marc and I as well as other dogs.  We have been through 3 dog training classes and she is responsive to the training.
I attached a few photos of her for your records.
We love her and look forward to a male chocolate puppy in the future.
Cheers,
Patty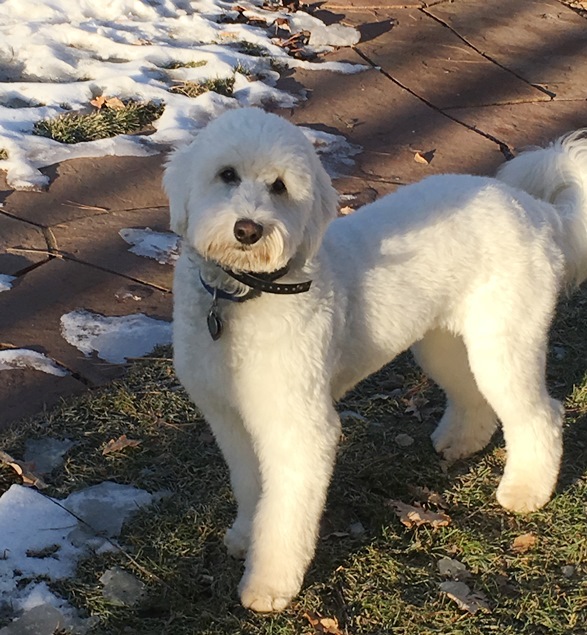 Nick,
We wanted to let you know how incredibly happy we are with Moose (Snickerdoodle). He has been such a wonderful addition to our family since we got him 1 1/2 years ago. He is caring, compassionate, fun, allergy free, shed free, intelligent and has a great disposition. We could not have asked for a better family dog. We all love him so much.
Thank you!
The Vincent Family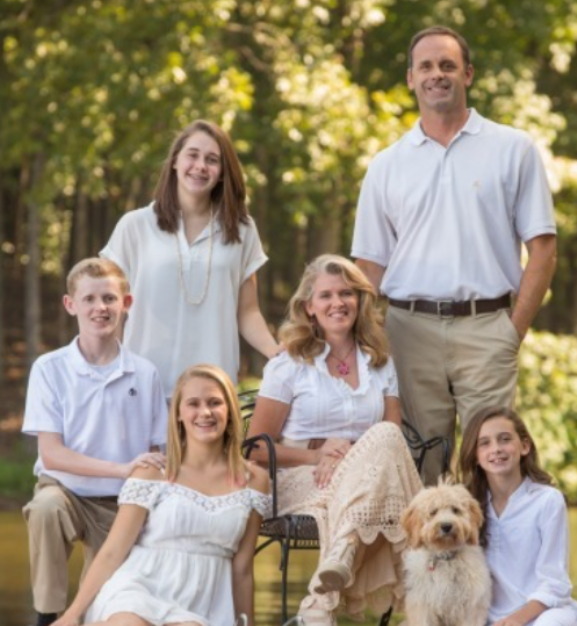 Good evening Nick,
I thought you'd enjoy this picture of Reagan (aka Boo) and his big brother Oscar!
Reagan is great! He has been training well with me (we have been attending classes with same trainer I used with Oscar) and had mastered "sit, down, bed and Reagan". His crate training is phenomenal, such a smart boy! The vet loves him and was so impressed with his temperament and all around cuteness:).
Thank you for everything, he is a joy!
All the best,
Carolyn and family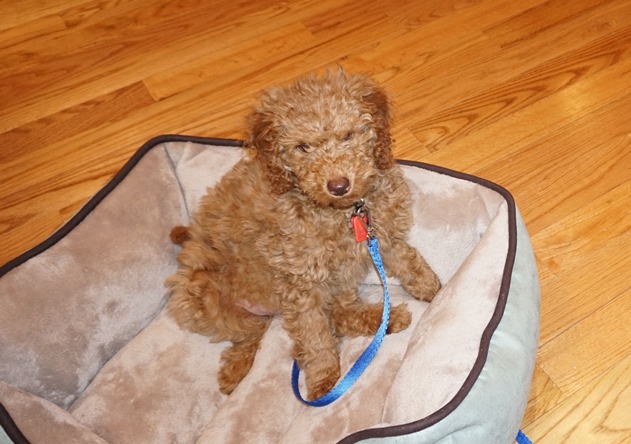 Hi Nick,
I wanted to send a picture of Beckham at 5 1/2 months old.  He had his first haircut with Heather & Jack.  He is an amazing addition to our family♡
Take care,
Stephanie Grabe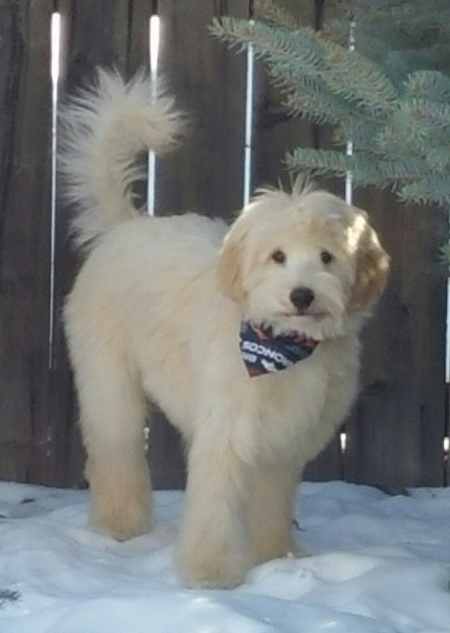 Hi Nick:
Quick update and a question for you.  Just finished a glorious holiday vacation here in CT with lots of fun time spent with the dogs and lots of company to give them extra love!  Everyone who meets Boomer and Foster absolutely falls head over heels!  Foster graduated from Puppy class with flying colors just before Christmas and the trainer has said she would love to see him back for advanced classes and even therapy dog prep.  They both continue to fill our lives with so much joy and they are having a ball with each other – they play all day long!  Boomer is like a pup all over again he is having so much fun with the little guy.  I thought you'd appreciate this picture attached.  Double decker doggies relaxing after a long day of play!
Take care,
– janis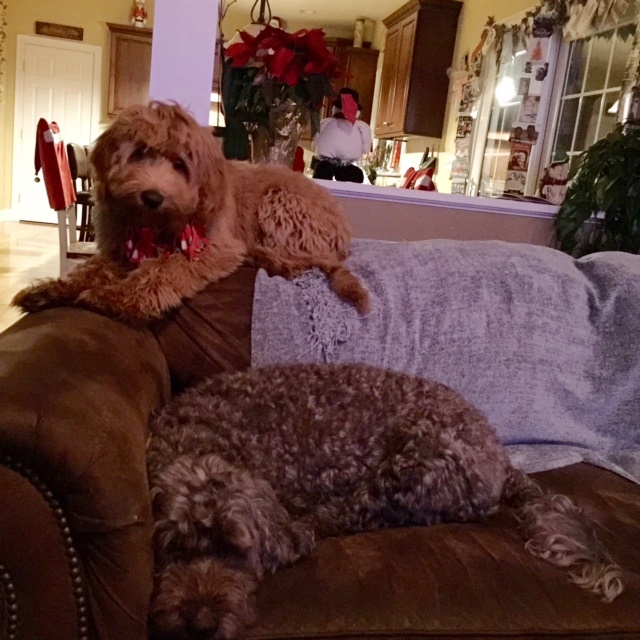 From Shannon V. and Family:
Hi Nick,
Just thought I'd give you an update on Cody.  He's SO great!!!  What a good puppy.  Training is going very well and he's got all his basic commands down.  He's house trained and crate trained and sleeping like a champ!  We couldn't have asked for a better puppy!!!  I attached some pics in case you wanted to see him and/or use any for your website.  We just had some family pictures taken a couple of weeks ago…
Sincerely,
Shannon
Hi Nick,
Riley & I were recognized for 5 years as a dog therapy team with Paws for Love. Riley & I visit schools & libraries to promote literacy for children. He continues to be a wonderful boy! He loves everyone & everyone loves him!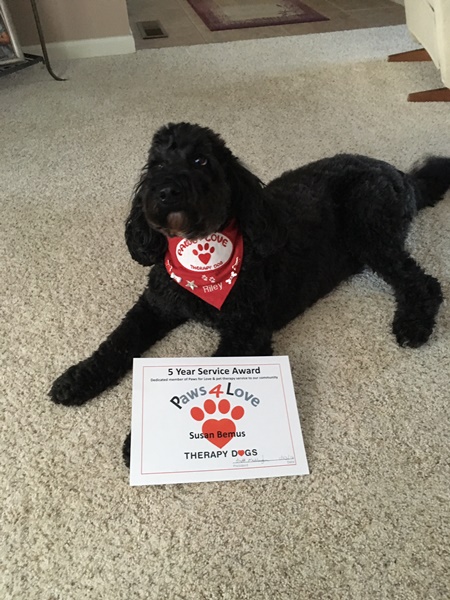 Susan B.:
Dear Nick,
I wanted you to see Mattie after her first bath, just a few days after she turned four months. Mattie is a wonderful pup. She has completed her first puppy class and goes to socialization every Saturday. We are looking forward to our upcoming puppy-class II.
Mattie is smart, fit, funny and has become a family member so easily. She crated from the first night on and never needed us to get up at night. She eats well and loves to go out in the community and gets lots of compliments. She taught herself to fetch and walks well with a loose leash. I have shared your name far and wide.
Thank you for breeding such fine dogs.
Best,
Susan and Bill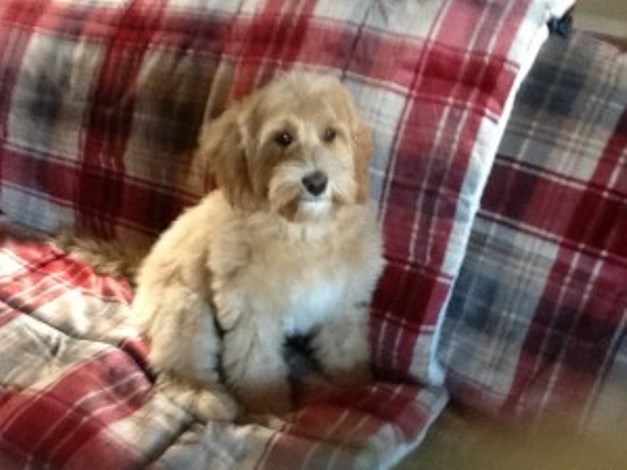 Anna, NM:
Greetings Nick and Family.
I just wanted to brag a little on our wonderful Olivia. She and I are in a service dog program through Assistance Dogs of the West. This group has been placing much needed service dogs to those who both need but could not afford, throughout the western United States. They now have a program for owner/dog service. This is the program which Olivia and I are a part of.  I must say, she has made quite an impression on the trainers and staff. Although they have had many labradoodles in the past, they tell me they see a big difference in the Australians.
I constantly answer questions about her and ask people to take a look at your web site for more information. I'm actually pleased to see the additional recognition of Cobberdogs to set these wonderful animals apart.
I want to thank you again for your dedication to furthering the breed and the joy of owning such a smart, sweet , loving dog.
Anna, Santa Fe, NM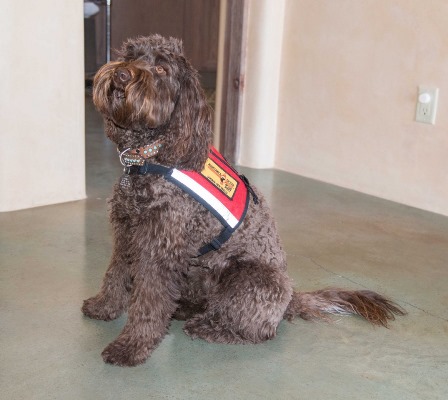 Maria Daniela Balduzzi (from Argentina):
This is Spal Darwin, he is the first Australian Labradoodle in Spain!   We donated him to Spain to be trained as an Alert Dog!! He is doing Wonderful!!! He is Petit & Denver's son, both dogs come from your bloodline!
If you want to know what we are doing with our dogs check facebook
Southern Partners Australian Labradoodle
&
Big Team Argentina
Warmly!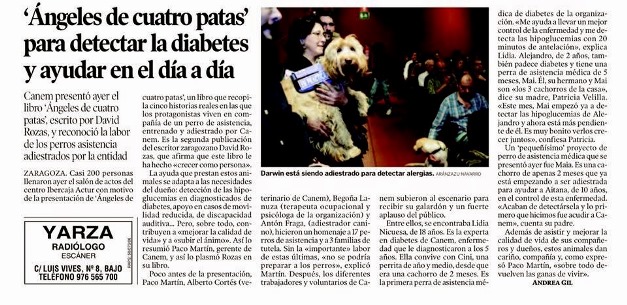 Chris and Jeff:
Hi Nick and Sam, We can't say enough about what a wonderful puppy Dusty is! He has met every expectation and more. Here are a couple of pictures of him getting ready to go four wheeling. Best to you in the new year,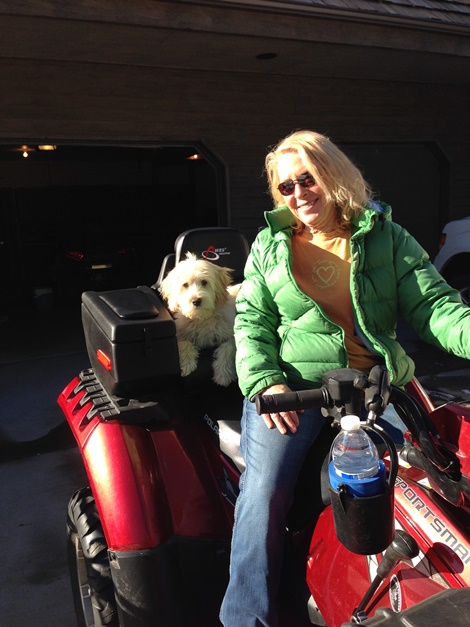 Sue Bemus:
Hi Nick & Samantha, 
Riley has been a Registered Therapy Dog since July 2011. He is a member of
Therapy Dogs, Inc. and Paws for Love. He spends time at our local library
for the Paws2Read program. Children read aloud to him and give him lots of
hugs and pats. He also participates in "Reading Month" in our school
district each spring. He visits first-third grades where I read to the
children and he shows off his tricks. He greets and meets up to 100 children
in a day. 

Riley also spends time at a pediatric therapy clinic playing with the
children that come for sessions at the clinic. He does lots of tricks for
the children and lies quietly while they hug and love on him.
He thrives on all the hugs, pats and fun he has with the children he plays
with. He loves everyone and everyone loves him!

At home he is a perfect guy. He is smart, loving, sweet, playful, fun and
fills our days with lots of joy. At 50lbs he is a big lap dog. He loves to
sit on our laps and nap or just lay quietly to receive lots of pats. 
I love to share our Riley. He is such a special guy. Our daughter in law calls him: RILEY THE WONDER DOG! 
J.Ortiz:
Wanted to share the love between Izzy and Dazzle:) best dogs EVER!
Sarah and Nelson, Washington:
Hello there! I have been meaning to write to you for some time – my husband and I adopted a puppy from you last fall and she is about to turn 1 year old on August 13th.  The time has flown and she is growing into the most wonderful dog.
Darby (formerly known as Sasha Lily) is so loving and smart but does some of the cutest and goofiest things. Her favorite games are tug of war, fetch (although she's not a fan of bringing the ball back), and walking all over Nelson's face while he tries to nap.  That last one is probably her most favorite!
I have attached a couple of pics of Darby for you! We can't thank you enough for this wonderful little pup.  She is absolutely a part of our family now and we can't wait for the years to come with her.
We sing the praises of Highlands Labradoodles and the breed here in the Washington area.  Hope all is well!
Best wishes,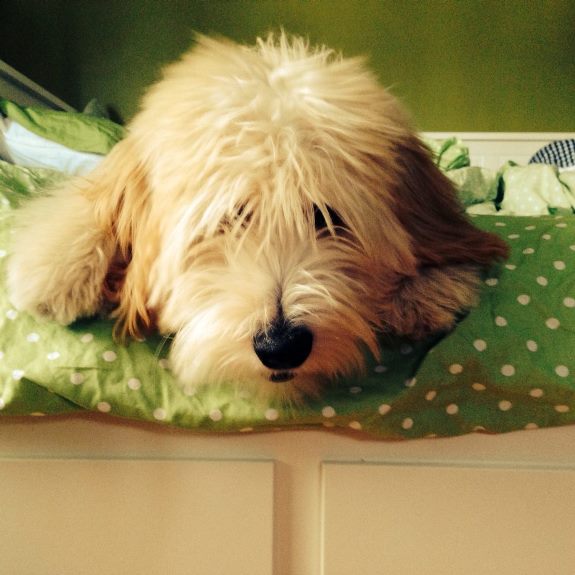 Danielle Sender:
Hi Nick and Samantha… I just wanted to give you an update on Rocky, (Highlands Rock Star) since he turned a  year old today. We had a big birthday party for him with 20 people and 12 dogs invited. Rocky hasn't met a dog or a person he doesn't like and it's such a joy to take him places or have people over to the house. He just loved his party with all his friends there.
He's still a HUGE bundle of energy, so we go to the dog park daily for him to play with his friends. They run and wrestle for about an hour and he's so happy.
We were gone for the summer in our RV and of course, Rocky went with us. We planned our trip around where the dog park were located this summer. He got right into our routine and loved exploring. Of course, we always get asked about his breed and we're told how cute and handsome he is. He has swimming in 2 of the Great Lakes checked off his bucket list from our trip. But he's glad to be home and have his big yard to play in.
Our vet feels he is at his full weight of 38.7 pounds. Right now he's stilling on my lap as I type this. He's such a little snuggler when he's not busy playing.
I thought you might enjoy seeing some of his pictures below.
Thanks for a wonderful dog. We can't believe he's a year old already.
Rick and Tara Klimovitz
Greetings from Pennsylvania, Nick, Samantha and family!
Our little "Miss Daisy" (formerly Fancy Pants)  has been with us now for almost 6 weeks and she has brought endless joy and love to our family since the day she arrived! As you can see, she has grown quite a bit and now weighs in at 9 lbs..  Her thick coat is really starting to grow in now which is perfect timing since "Old Man Winter" is starting to show his face around here. Miss Daisy is super playful and loves to be loved!  We took her up to West Point this past weekend and she loved all of the attention she received!  She's wonderful with children especially when she can run after them outside.   She is a good sleeper and has already claimed her spot on the family couch snuggled next to one of us. We just adore her and we knew in our hearts that she was the one for us once we saw her 4 week old picture on your website.   Thank you for breeding such gorgeous, loving animals. We are very grateful that fate led us to Highlands Australian Labradoodles!  Keep up the great work, Nick and Samantha.  In a few years, we hope to be back to you to adopt a  little sister for Miss Daisy.
Happy Holidays to you and your family!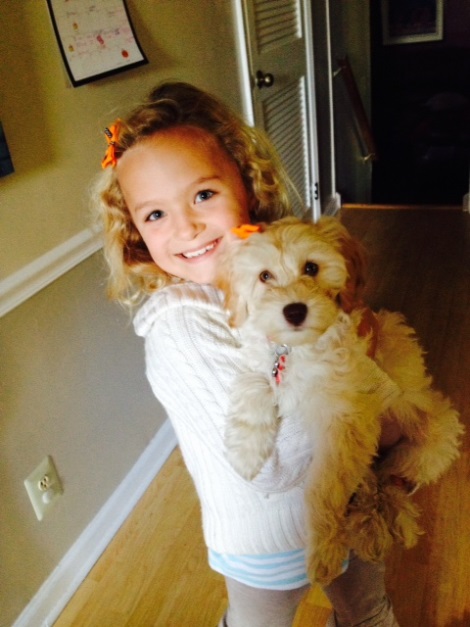 Dear Nick, Samantha, and Family,
We wish you a very Merry Christmas, and the best of the New Year.  Hope you can open Mister Bojangles Christmas Card–he is just such a good boy and cute as tacks, too.
Thank you for bringing such joy into our lives.
Always,
Rich & Candy VandeKoppel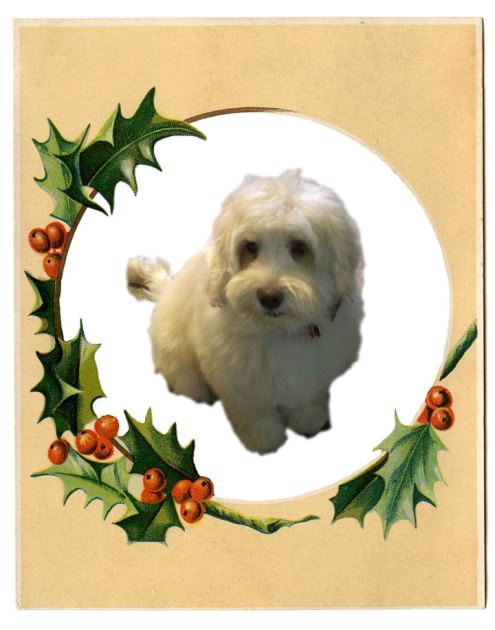 J.Ortiz:
She is amazing! Loving her new yard and we are loving her! Thank you for bringing such wonderful pets into our life.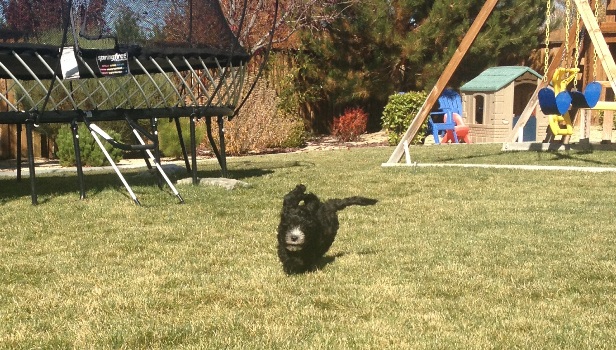 Brittany W:
Hi there,
Just wanted to let you all know that Cooper (MacMillian) is AMAZING!!!! We are so in love. I have attached some pictures. He is growing so fast and is full of energy. He also graduated from Puppy 101 last week and we are very proud parents.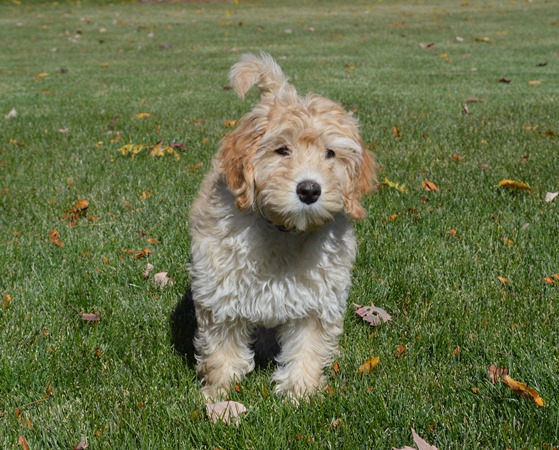 Stephanie Wilson:
Just another cute photo of Bob!! Although all the photos are cute – as he is very photogenic! He weighs 17.5lbs and eats very well and enjoys his long walks! Just a wonderful little guy!!!!!!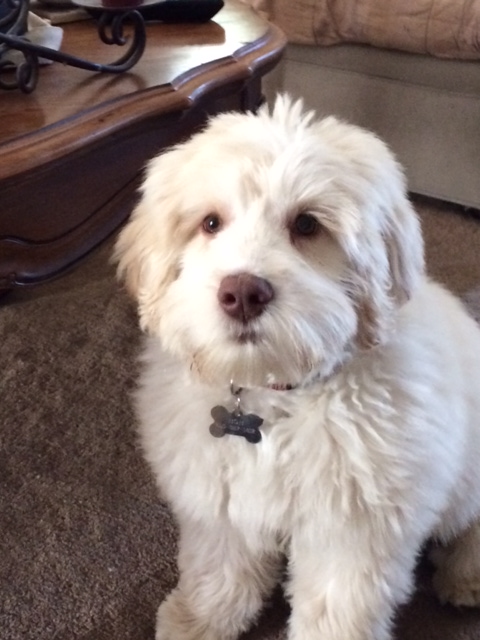 Linda Scibor
Hi Samantha and Nick,
Just wanted to let you know that we are so pleased with Bay! He has a wonderful temperament – calm, sweet, loving and intelligent. He is doing very well with house training in just one week, he settles himself for a nap when ready and goes into his crate if it is a little too noisy for him. This is in contrast to our Cavapoo as a puppy – so any doubts my husband had are long gone! Our other dog, Henley, has adapted well to him, seeing that he is going to be fun to have around. I am very impressed that he doesn't bark and just wimpers for a few moments when he is left to himself at bedtime. Bay impressed our veterinarian and got a clean check on the fecal sample. His incision site is healing just fine.
Thank you for this beautiful creature!
MaryDaley:
Dear Samantha and Nick,
It has been a few months now and I thought that you would like to see pictures of our GIno (Sunny Boy). He has been a wonderful addition to our family. He steals the hearts of all who meet him. Except my grandsons who are still a little afraid of dogs. Hopefully time will help that feeling pass.
We just finished puppy class with Gino and will continue with intermediate in a couple of weeks. Gino is everything I had hoped for in a dog and more!
We can't imagine our lives without him!!!!!
I was reading that the mini Australian labradoodle is now changing names to a Cobble Dog. Does that mean our dog is a Cobble Dog too? You will have to let me know about any changes to the name of the breed.
I hope all is well with you and your family and all of your wonderful dogs and pups!
Peace and blessings to you.
Mary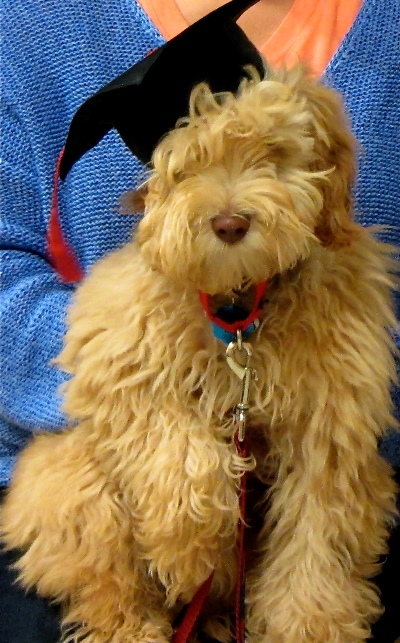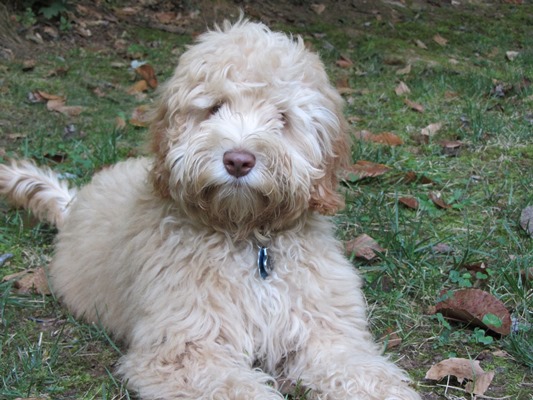 AmyJo Kuster:
Hello.   It has been almost a year since this puppy came into our lives and I wanted to drop you a note to let you know how it is going.  Having had some experience with a labradoodle I thought I knew what to expect, I was so wrong.  We named Rainbow Dash, Harriet Potter and call her Potter.  Potter is the most loving, adorable and silliest dog I have ever been around.  We crate trained her early on and have a doggy door however she has decided that sleeping with me is where she belongs.  I moved my office to the back of the house so I can watch her play in the back yard however she likes to be stay where with the family.
I think most of all, she has the most adorable personality.  She is funny and loving and we can't imagine our life without her.
Thank you so much for this addition to our family.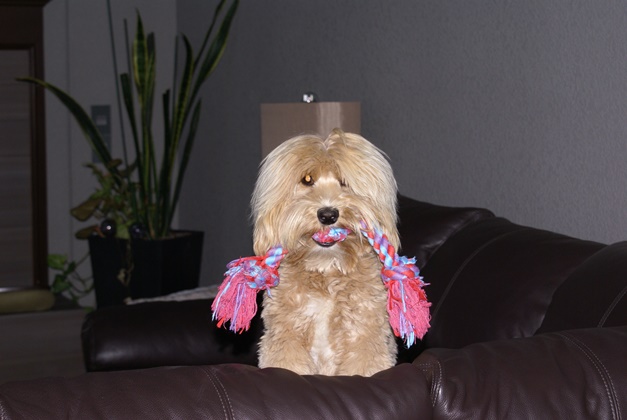 Peter Batayte:
Just had Olivia weighed and measured. At 28 weeks age she is 23.5 lbs and 15 inches. she's mini!! She is the smartest well mannered most beautiful pet dog we have ever had. Thank you for such a great pet.
Peter and Nancy
Caroline and Tom Wilten:
Nick and Sam,  I thought I'd finally send you a photo and an update on Otis (Mr. Tuxedo).  I've attached two photos that are very similar, but taken a year apart—one when Otis was 12 weeks old and a current one of him at one year and almost four months old.  He has grown from an adorable puppy to a very handsome dog.  He's 43 lbs and about 20" high—his coat is gorgeous and ended up quite curly which we love.  He has been a super dog and we couldn't be happier with him.  He's sweet, super friendly, loves everyone and is a pleasure to be around.  Luckily he is a great "car dog", since I take him everywhere I can with me while I run errands and carpool around town.  He also spends a lot of time in the mountains with us.  He loves to hike and just be around people.  We've been in the mountains the past week and he's been to the farmer's market, an art show, two kids' adventure races, out to lunch and dinner, several hikes and he even went up the mountain on the gondola today.  He gets lots of love and pets wherever he goes and he is happy to receive all the attention.  I've (well really Otis) have/has been a great ambassador for this breed.  We get questions about him everywhere we go and have given your name out numerous times. He's been easy to train and is a very well-manner guy.  Our only challenge right now are his recall skills—I feel as if he's now a "teenager" and the commands of "come" or a whistle to come…are completely optional in his opinion.  So for now he is on a lease or a long lease (when hiking) and it is something I'm going to work on this fall when I'm hoping to have a bit more time.
Hope all is well with you.  I'd be happy to send more pictures if you are interested.  Thanks for such a wonderful dog!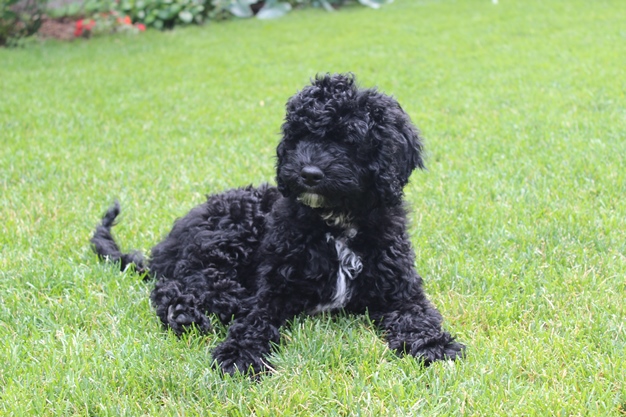 Dr.Joanne Baum:
Dear Sam and Nick:  We are pretty sure we have the best puppy of all times.  He is WONDERFUL!  He has been coming to the office with me since Tuesday – inadvertently – I thought I had lined up someone to come mid day for an hour but it turns out she didn't think so and I had no place for Ami, was not about to leave him n his crate for 8 hours, so I brought him in hoping for the best.  The first hour he was pretty active and needing attention but after that he settled right in and enjoyed going outside after each client and by yesterday – I went to CEU luncheon, told the hostess I had a puppy in training to be a service dog and she let me bring him in.  Ami laid at my feet under  the table quietly chewing on two o bones for 90 minutes and then sat on my lap for the next 15 minutes just behaving himself beautifully.  People were so impressed with him.  Tonight he is acting like  a puppy growling and barking as he plays with one of his toys.  Mike jut brought him outside and I wanted to take the time to write to you, respond to your email and tell you how much we are enjoying him.  This week, we had a crisis with our sewerage – it came into the utility room and we had workman at the house for two days, 6-10 outside and two inside and we all had to sleep at a friend's house nearby on Wednesday night – and he was just so fine with all the changes, He barked once at the men coming and going , I corrected him and that was it – he did not bark again – that really impressed me – bc it was discombobulating for us and he was just smooth and fine about it all.  He slept fine that night at our friend's even though he was in "our room" in his crate and then when we came home last night – he did not cry to be back in the family room in his usual spot.  So much for his first week. We both are spending time with him each day playing and training – He knows sit, down, is getting stay as he waits for us by the kitchen gate if we walk out for a second,  he definitely knows potty outside, fetch, drop it, bring it back, good AmiJ  You two produced a beautiful, fun, sweet, highly intelligent, mellow little guy who can be playful as well.  I can't image enjoying a first week with a puppy more.
He knew Mike was alpha dad pretty fast and is getting that I am alpha mom as well.  I keep h telling him  I al=mJ  The monks of new skete know what they are talking about.  He is heeling on the leash well also, even with meJ l
Thank you thank you,
Jo & Mike and Ami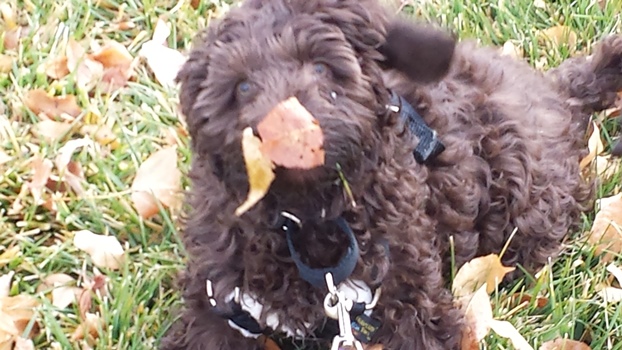 Tanya Wittig: Blaze
Samantha and Nick,
I would say Blaze is very happy with his new family and friend Jack 🙂
Tanya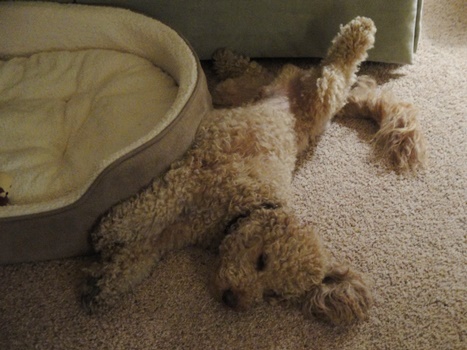 I've been meaning to write to you for a little while now as it gives me great pleasure to give you an update on Tequila. She is 7 months and weights almost 20 lbs. now. She turned out to be a gorgeous looking puppy who is also smart, confident and obedient. She excelled in puppy kindergarden and appeared to be relaxed and more mature than some of the other puppies there. She is a happy and playful little dog and she seems to have the best play time with other doodles, probably due to their similar temperament. There is not a day that goes by that we don't get a compliment about how beautiful she is and she is calm and not prone to bark for no reason. As a matter of fact, we haven't heard her bark yet, which we really appreciate since we live in a condo.
We have attached a picture of Tequila and if you would happen to have any recent pics of her siblings we would be happy to have a look at them. Thanks again for the beautiful puppy and best wishes for the New Year.
Ferdinand and Alicia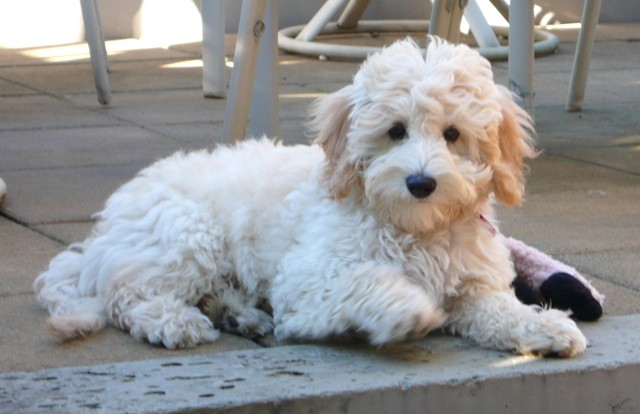 We decided to take some more photos for you. Hopefully you will find one you like in this batch. There is also one attached from June.
Maximillian, or Maxim as we call him, is the most wonderful dog! He has grown into a beautiful 32lb boy. He is athletic but not hyperactive. He is fun loving and plays with his toys while never touching anything in the house that is not his. Well, he does have a thing for socks but that is his only vice. Maxim has such a sweet and loving nature. He loves to cuddle and is a devoted companion who wants to be right by your side all the time. We have not been the most dedicated trainers but he is so smart that he figures out exactly what we want him to do. Everywhere we have taken him, people are fascinated by his personality and his fabulous black hair. They can't stop touching him which he does not mind at all! We can't thank you enough for breeding this magnificent dog and for all the care you took starting him off on the right track.
All the best to you and your future puppies!
Andy and Mary Davis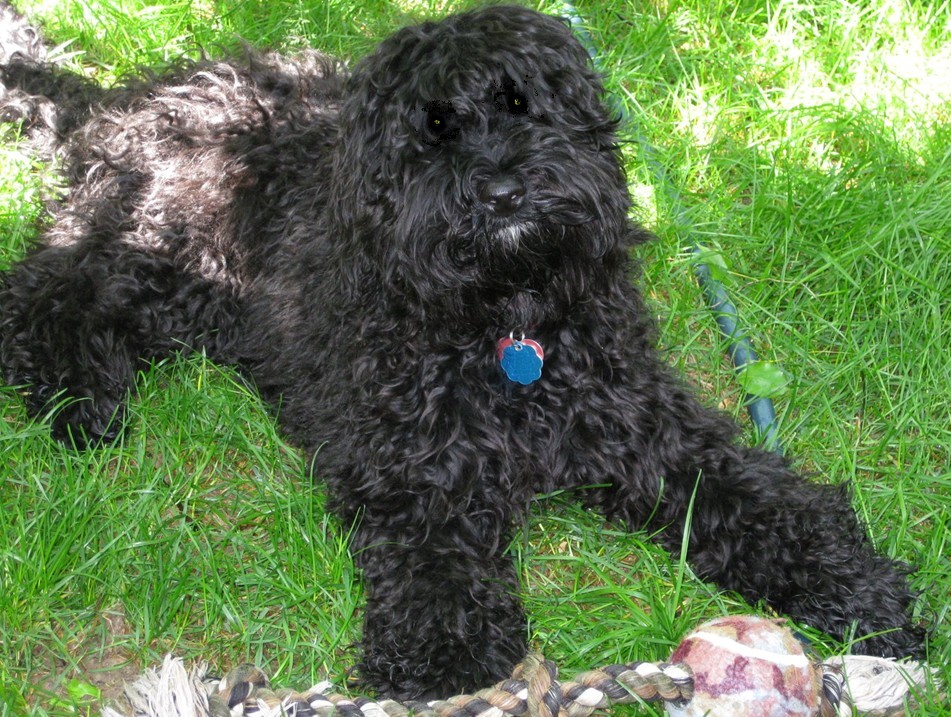 Brandy, David and the kids….. Colorado
First of all, you all must know that we all adore our Chewbacca.  Words cannot even express how much joy he has brought into our home.  We really couldn't have asked for a better addition to our family!!   We cannot believe how amazing he has been.  He absolutely loves the kids.  His favorite thing to do is snuggle with the kids while they are watching TV or reading a book.  He also loves to go for walks and car rides.  He has learned to ring the potty bell to go outside (most of the time) and he has learned to go in a designated area so we don't have yellow spots in the grass.  He sleeps through the night and enjoys his crate.  So far we have taken him everywhere we go and people constantly stop us to find out what kind of dog he is.  We took him with us to ULTA the other day and the women in there could not stop talking about how cute he is.  I think our trip to ULTA took an extra 30 min because of all of the attention he got.  Everyday we get numerous comments on how calm and sweet he is.  We can only agree because he really is the best dog we have ever had or met. 
Thank you for all the time you took with Chewbacca (and us) to make him the best dog and us the best owners that we could be.   Thank you Krissy for always holding him and loving on him so he would come to us ready to love 4 little Blooms.  We have wanted a dog for years and we finally found one that all of us adore and that fits our family perfectly!  You all will never know how much we appreciate all that you did to give Chewy a great beginning.  You really are the most amazing breeders we have ever seen!!  We will keep you updated on how he is doing and keep sending you pictures or dropping by.  Thanks again for all you do!"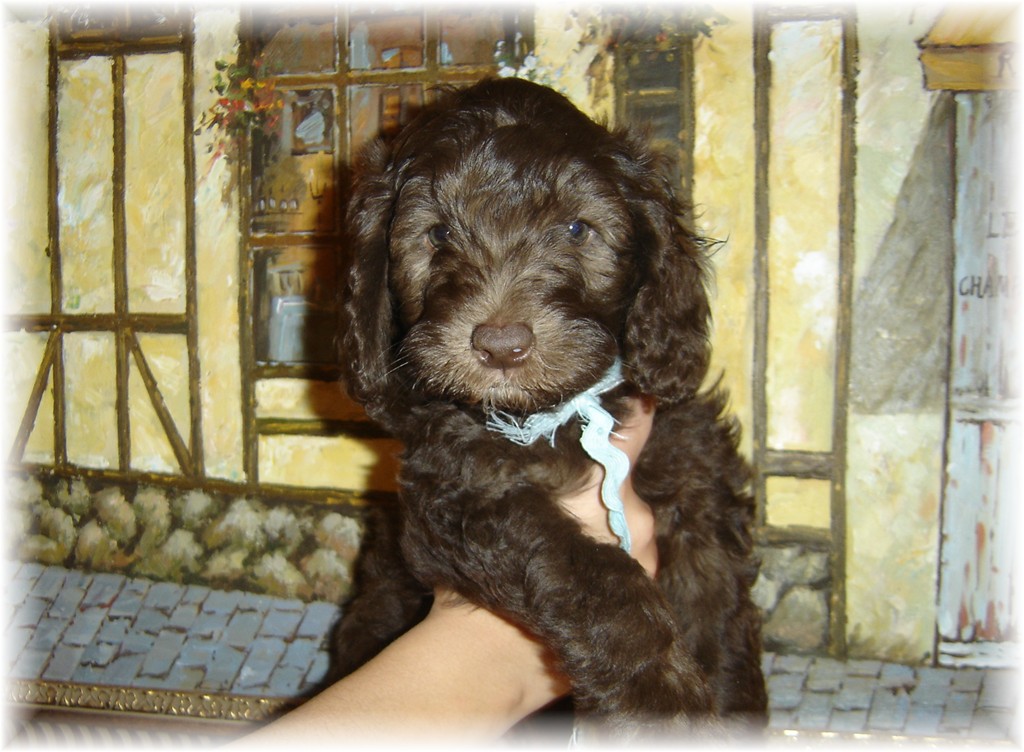 "I just wanted to let you know that Sampson is doing very well. Not only does he have a name, but he is sleeping through the night and excelling at house training. In fact, he has yet to have an accident! He visited the vet today and received a full bill of health-no surprise. At 12 weeks, he weighs 13.6 lbs. He's a big boy! He is very sweet and calm and gets on very well with Gunther. Everyone just loves him to pieces. Thanks and take good care. "   Courteney,  Colorado.
"Once again, thank you for a wonderful dog.  We really appreciate the care you took in having her shipped and your patience with all of our questions (not to say we won't have more!).  Lettie is winning the hearts of friends and family and always makes a great impression.  It is clear you love these dogs and are concerned about their placement.  We can't imagine having a smoother transition with such an important purchase as this.
God bless you and your family……"    Matt and family, Missouri.

A big hello from Captain Rex!!! He is just doing great and bringing
all of us a ton of joy. Rex is now 17 pounds and is growing into those
big paws.
Training is coming along nicely as he is just a briliant dog ( we
aren't bias at all ).
We are so thankful for all the great advice and support you gave to
us, you are a wonderful breeder and will have many awsome litters to
come.
We continue to tell many what an amazing breed this is,as we are
stopped often by admirers.
We hope you are all well, we love your new additions by the way.
Thanks again for giving us such a great dog!!!!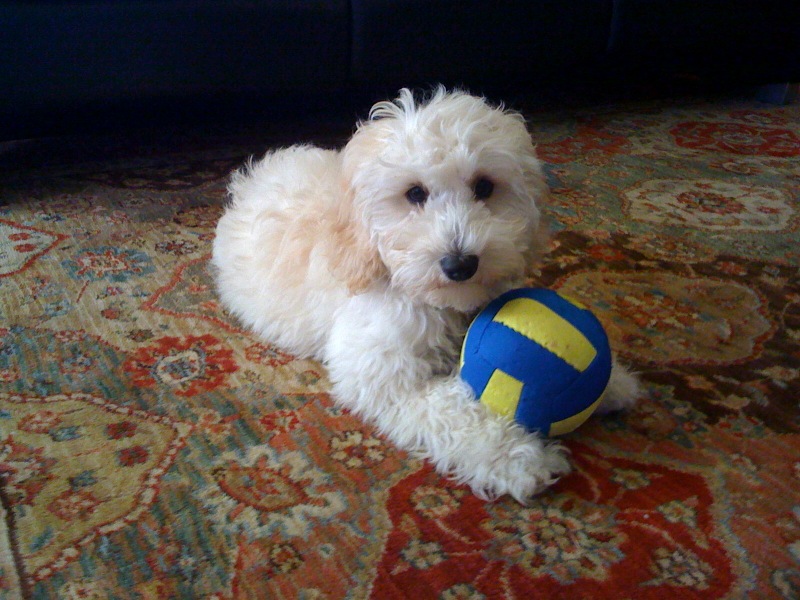 Roxy weighted in this past weekend at 17lbs. Here are a few pictures of her. It is very hard to get any of her sitting still as she is usually always playing with the kids or running around.
We consistently get comments from people asking what type of dog she is or what a beautiful dog she is. As a family we could not be more happy with Roxy. She is a wonderful loving dog that is great with the kids and loves to get out to the park and run. As you might remember our middle daughter has some pretty strong allergies to dogs. The allergist actually suggested we go with a Allergen friendly dog instead of no dog at all. According to the allergist dog dander is on everyone and by having an allergen friendly dog she would actually make things easier on our daughter when she came into contact with other animals. I can actually say with confidence that our Daughter seems to be more tolerant to dog allergies now that we have the ALD than before. As you know we did view a lot of breaders before we made a decision and to go with Roxy. The biggest factor in making our final decision had to do with the impression that we got from visiting Highlands Australia Labradoodles. There was never any pressure to make a decision on our first visit and we actually came back multiple times before the puppies were even born. Nick you and your family were more than open and understanding to our concerns and we really appreciate your patience openness with all of our questions. I could not give a higher recommendation to HAL and think that once you visit and meet the family you will be sold as we were.
Regards
Jeff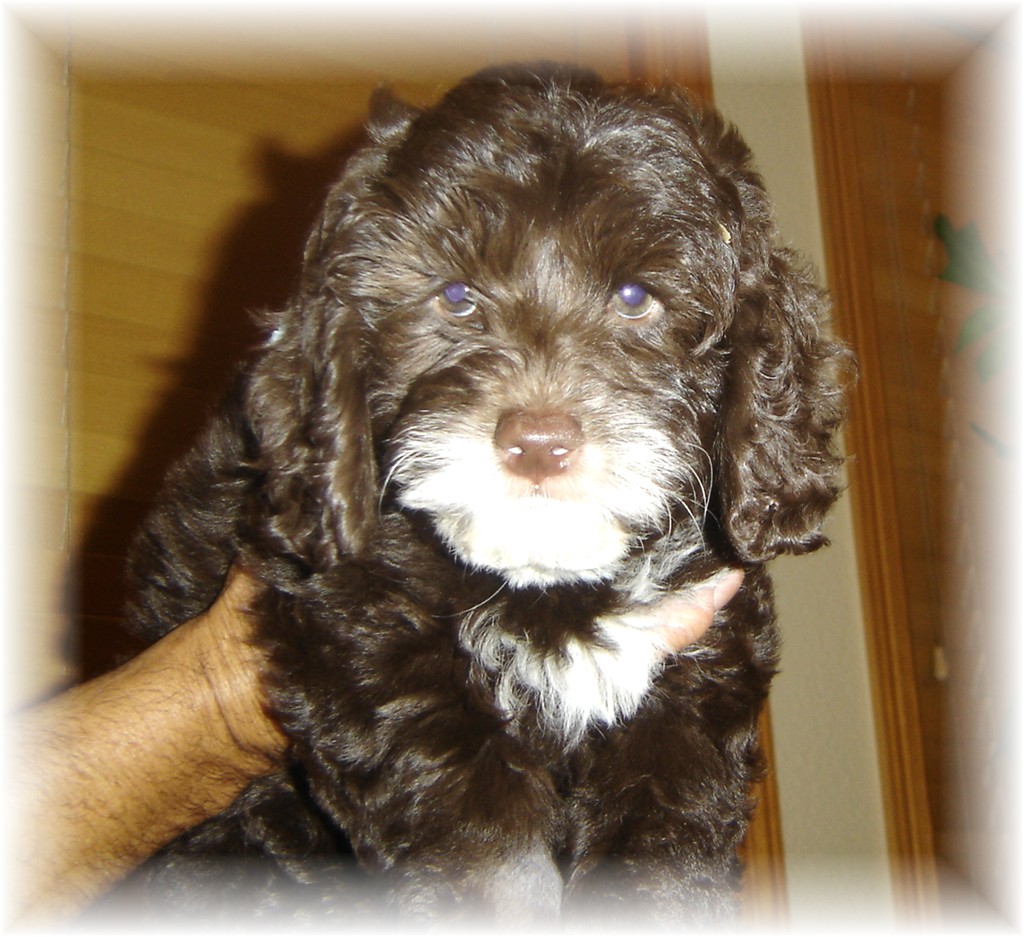 We wanted to share these photos of our Riley with you. He is 6 months old
today. His day still begins at 5AM with breakfast and a quick trip outside.
We have tried to move him to 6AM, but he is awake and wants up at 5AM!! It's
a good thing that we are also early risers. He is then played with and then
groomed. Daily he is brushed/combed and his teeth are brushed as well. He
behaves beautifully for his daily grooming.
He is such a sweet guy. He seldom barks, plays gently with his toys..in
fact he has not chewed up one toy. He loves them all and always has one or
two in his mouth for playtime. He is wonderful with our grandchildren. Riley
is a loving, gentle pup. He has been totally housebroken almost since the
week we brought him home. He has not chewed up one thing that is his or
anyone else's. All of his puppy teeth are now gone and he has a mouthful of
beautiful white adult dog teeth. He weights 30 lbs. today.
We could not have hoped or received a better match for us. He is truly a joy
in our lives and we love him to pieces.
His coat is gorgeous and the pictures do not do him justice. Everyone who
meets him comments about how beautiful he is and so calm and sweet. He will
bring us love, lots of fun, & companionship for many years to come I am
sure!
Thank you again for giving him such a terrific start to life and all of the
wonderful training! Please keep doing what you are doing so well…breeding
wonderful Australian Labradoodles! We are so happy we found you and found
your "Danny", now our Riley!
Susan & Joe