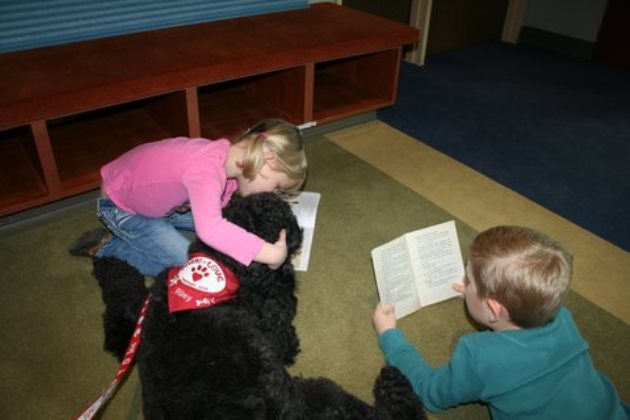 Hi Nick & Samantha,
Riley has been a Registered Therapy Dog since July 2011. He is a member of
Therapy Dogs, Inc. and Paws for Love. He spends time at our local library
for the Paws2Read program. Children read aloud to him and give him lots of
hugs and pats. He also participates in "Reading Month" in our school
district each spring. He visits first-third grades where I read to the
children and he shows off his tricks. He greets and meets up to 100 children
in a day.
Riley also spends time at a pediatric therapy clinic playing with the
children that come for sessions at the clinic. He does lots of tricks for
the children and lies quietly while they hug and love on him.
He thrives on all the hugs, pats and fun he has with the children he plays
with. He loves everyone and everyone loves him!
At home he is a perfect guy. He is smart, loving, sweet, playful, fun and
fills our days with lots of joy. At 50lbs he is a big lap dog. He loves to
sit on our laps and nap or just lay quietly to receive lots of pats.
I love to share our Riley. He is such a special guy. Our daughter in law calls him: RILEY THE WONDER DOG!