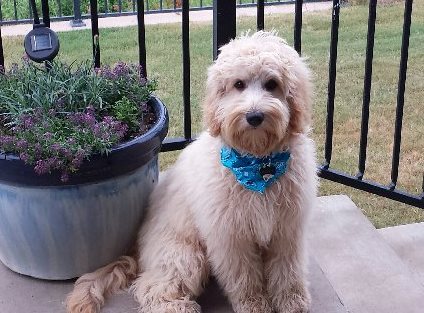 Hi Nick and Samantha… I just wanted to give you an update on Rocky, (Highlands Rock Star) since he turned a  year old today. We had a big birthday party for him with 20 people and 12 dogs invited. Rocky hasn't met a dog or a person he doesn't like and it's such a joy to take him places or have people over to the house. He just loved his party with all his friends there.
He's still a HUGE bundle of energy, so we go to the dog park daily for him to play with his friends. They run and wrestle for about an hour and he's so happy.
We were gone for the summer in our RV and of course, Rocky went with us. We planned our trip around where the dog park were located this summer. He got right into our routine and loved exploring. Of course, we always get asked about his breed and we're told how cute and handsome he is. He has swimming in 2 of the Great Lakes checked off his bucket list from our trip. But he's glad to be home and have his big yard to play in.
Our vet feels he is at his full weight of 38.7 pounds. Right now he's stilling on my lap as I type this. He's such a little snuggler when he's not busy playing.
I thought you might enjoy seeing some of his pictures below.
Thanks for a wonderful dog. We can't believe he's a year old already.
Danielle Sender