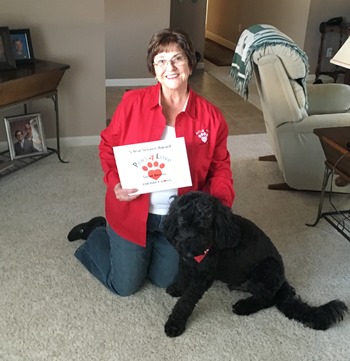 Nick, we were recognized for 5 years as a Paws to Live therapy team today at our annual meeting.
Wanted to share these photos with you.
Sue & Riley…………..
More….
We wanted to share these photos of our Riley with you. He is 6 months old today. His day still begins at 5AM with breakfast and a quick trip outside.
We have tried to move him to 6AM, but he is awake and wants up at 5AM!! It's a good thing that we are also early risers. He is then played with and then
groomed. Daily he is brushed/combed and his teeth are brushed as well. He behaves beautifully for his daily grooming.
He is such a sweet guy. He seldom barks, plays gently with his toys..in fact he has not chewed up one toy. He loves them all and always has one or
two in his mouth for playtime. He is wonderful with our grandchildren. Riley is a loving, gentle pup. He has been totally housebroken almost since the
week we brought him home. He has not chewed up one thing that is his or anyone else's. All of his puppy teeth are now gone and he has a mouthful of
beautiful white adult dog teeth. He weights 30 lbs. today.
We could not have hoped or received a better match for us. He is truly a joy in our lives and we love him to pieces. His coat is gorgeous and the pictures do not do him justice. Everyone who meets him comments about how beautiful he is and so calm and sweet. He will bring us love, lots of fun, & companionship for many years to come I am sure!
Thank you again for giving him such a terrific start to life and all of the wonderful training! Please keep doing what you are doing so well…breeding
wonderful Australian Labradoodles! We are so happy we found you and found your "Danny", now our Riley!
Susan & Joe