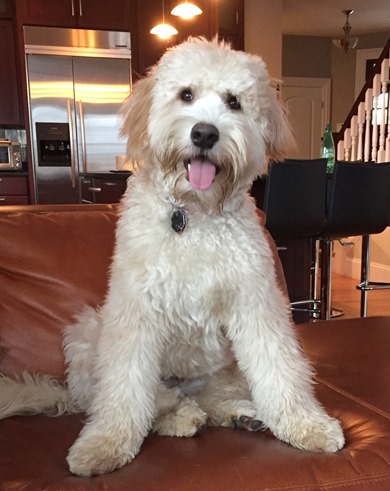 Hi there,
I thought you would enjoy seeing a picture of Bailey who will be 9 months old this week and weighs about 33lbs he is lovable, smart, funny and full of character!    He was extremely easy to train being a very food motivated dog and while he is currently testing the limits of adolescence it is more about the sport of what he can do and less about not knowing what he should do.   He does love to grab a shoe (very partial to my UGGS!) but gives it back quickly and now that he is bigger he checks out the counters for any food items we may have left for the taking – which is the current focus for our training!   He is one of four 'doodles' in our extended family, he has a wonderful doggie day care situation and many neighborhood dogs to romp with in the field behind our house – he is one fast pooch.   He loves to chew and goes through many bully sticks (and other types of animal part chews ) as well as toys faster than I can keep up with, although he is beginning to slow down a little from when he was teething.  Thankfully he has never chewed furniture or rugs.   We continue to crate him at bed time and if we are out of the house although we are relaxing that a little as he has proven himself to be more 'trustworthy'.    He loves people and is known as the best and cutest dog in the neighborhood.   He doesn't shed nor does he aggravate my allergies, I think his parents are Kate and Star so if all the other pups do as well as Bailey you have a winning linage.
He is wonderful addition to our family and we are enjoying him so much – even walking him in the cold, rain and snow and … yes, he is smart enough to do his business quickly!     I hope you are well and raising lots of Australian Cobberdogs as they are extremely popular in the Boston area and I have given your name to several people.
Wishing you and your family all the best.
Judi and Jim Bieber