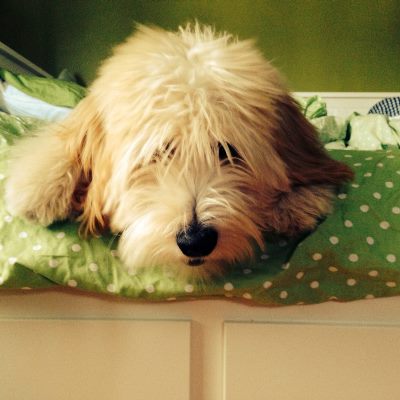 Samantha & Nick –
Hello there! I have been meaning to write to you for some time – my husband and I adopted a puppy from you last fall and she is about to turn 1 year old on August 13th.  The time has flown and she is growing into the most wonderful dog.
Darby (formerly known as Sasha Lily) is so loving and smart but does some of the cutest and goofiest things. Her favorite games are tug of war, fetch (although she's not a fan of bringing the ball back), and walking all over Nelson's face while he tries to nap.  That last one is probably her most favorite!
I have attached a couple of pics of Darby for you! We can't thank you enough for this wonderful little pup.  She is absolutely a part of our family now and we can't wait for the years to come with her.
We sing the praises of Highlands Cobberdogs and the breed here in the Washington area.  Hope all is well!
Best wishes,
Sarah & Nelson